Nedrowfest: Sunday, August 13, 2017 ~ 1-4pm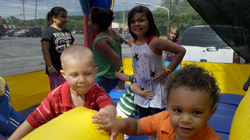 NEDROWFEST is a FREE family friendly festival for Nedrow and neighboring communities in the parking lot of Cornerstone Plaza at the corner of S. Salina and Leonard Ave. in Nedrow sponsored by St. Andrew's Anglican Church, Eagle Life Wesleyan Church, Christ is King Baptist Church and Psalm 19 Ministries. Check us out on Facebook.
We give away free hot dogs, drinks, sno-cones and popcorn. There are balloons and fun games for kids with prizes. We also have live music.
Check out a news release at The Anglican Mission web site about Nedrowfest 2014.