Alpha Marriage Course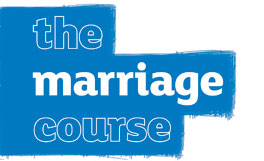 Next Course Begins: ***
"Come & See Dinner"
We hope our next Marriage Course begins in the fall of 2021 with the "Come and See Dinner". Just come to the dinner and see if the Marriage Course is for you. No commitment to the whole course, just come to dinner and enjoy a night out.
The course is for any married couple who wants to build a strong and durable relationship. While based on Christian principles, the course is very helpful for any couple with or without a Christian faith or church background. Each evening begins with a candlelit dinner followed by a DVD presentation and opportunities to discuss the topic as a couple. There are no group discussions.
Topics include recognizing each other's needs, learning to communicate effectively, resolving conflict, forgiveness, knowing how to make each other feel loved, relating to parents and in-laws, sexual intimacy, making time for each other, and having fun together
Marriage Course FAQ
What is the Marriage Course?  The Marriage Course is a series of seven sessions designed to help any married couple strengthen their relationship.  It's a great opportunity to spend time together as a couple looking at the important issues in your marriage.  The Marriage Course is practical and will help equip you with the tools needed to build a healthy marriage that lasts a lifetime.  Each week you are given the opportunity to enjoy a special meal together and listen to a talk. Then there is plenty of time to discuss the topic as a couple. There is no group work involved at any stage of the course.
Who is it for?  It is for any married couple that wants to work together at and invest in their marriage.  If you have a strong marriage this course will help you make it even stronger and will reinforce your good habits.  If, on the other hand, your marriage is in difficulty, the course will help provide you with practical tools to help you work through the issues. Some couples that are separated have used the course as a way of trying to get back together.  While the course is based on Christian principles couples are welcome with or without a church background. Many couples that are not churchgoers have enjoyed and benefited from the marriage course.
What's Involved?
Dinner – The evening starts with a candlelit dinner.
Talk – Each evening a DVD presentation about a marriage topic is watched.
Coffee, dessert and discussion time – Exercises for you to do together as a couple.
Homework – At the end of each session you will be given some homework to do together before the next session. It isn't looked at by anyone else and is just for your own benefit to help you continue your discussion at home.
How much does it cost? The suggested cost is $80 for the whole course which includes a 2 participants guides, a homecooked meal eery week and a lot of love and support for your marriage. Please do not let the cost factor into whether you attend the course or not. If you are committed to attending, we want you here.
When is it offered? Our next course begins in the fall of 2017. The course is 8 weeks long and addresses the following topics:

Come & See Dinner and Presentation
Session 1: Building Strong Foundations
Session 2: The Art of Communications
Session 3: Resolving Conflict
Session 4: The Power of Forgiveness
Session 5: The Impact of Family -- Past and Present
Session 6: Good Sex (Intimacy)
Session 7: Love in Action
Good News Center
The Good News Center is a resource that helps strengthen marriages and families by offering marriage and relationship education programs and retreats located in Utica, NY. Of the several programs they offer here are some great opportunities for marriages:
Marriage Encounter Weekend
Check out the World Wide Marriage Encounter website for more information about how their weekend retreats are structured. They offer weekend retreats literally all over the country. Contact the Good News Center for more information and to sign up: (315) 735-6210 or info@thegoodnewscenter.org. Contact Fr. Steven Evans to talk about his own experience of attending an ME weekend at the Good News Center. He highly recommends it!
Retrouvaille
Do you feel like your marriage has reached the end of its useful life? Do you feel like it's hopeless? Considering divorce or separation? Retrouvaille is for you. There is hope. From the Retrouvaille web site:
The word Retrouvaille™ (pronounced re-tro-vi with a long i.) is a French word meaning rediscovery. The program offers tools needed to rediscover a loving marriage relationship. Thousands of couples headed for cold, unloving relationships or divorce have successfully overcome their marriage problems by attending the program.
Contact the Good News Center for more information about Retrouvaille: (315) 735-6210 or info@thegoodnewscenter.org.
Recommended Reading for Marriages
Boundaries in Marriage by Drs. Henry Cloud and John Townsend
The 5 Love Languages by Dr. Gary Smalley
Sheet Music by Dr. Kevin Leman
Questions Couples Ask Behind Closed Doors by Dr. James Osterhaus